Volvo V60 Lease Specials In Charlotte Near Matthews, NC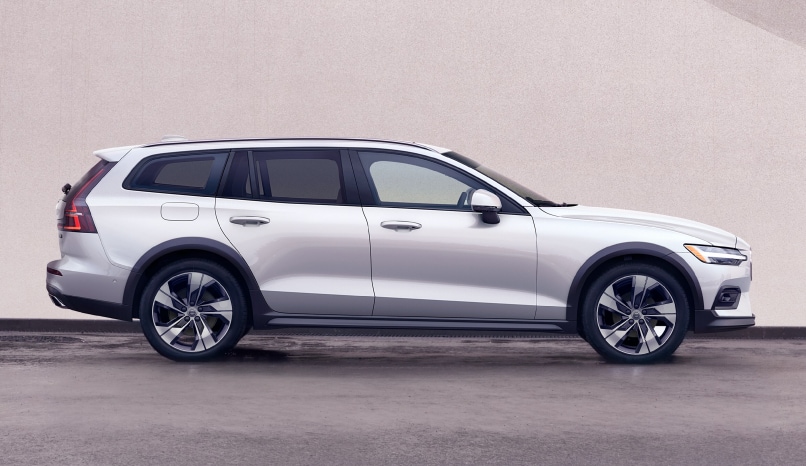 LEASE FOR
$
/Month
Months | Due at Signing
When you get one of our Volvo V60 lease specials, you're getting a brand new wagon that has been re-designed to mesh into the modern automotive world. Our Volvo V60 lease allows you to thrive in a vehicle that sticks out for all the right reasons: utility, luxury, and style. If you want a heavier wagon that comes with cooled seats, check out our Volvo V60 Cross Country lease options while you're here. All of our Volvo V60 wagons for sale are modern miracles when considering the limited features and hampered designs employed by wagons of old. Come see what the contemporary wagon is all about when you get a Volvo V60 lease with us in Charlotte.
Volvo V60 Trims
You know wagons by their striking elongated design and, usually, piles of luggage and other goodies on top of the roof. With the amount of cargo space in the Volvo V60 (up to 60.7 cubic feet, to be exact), you might not need to tote anything on the top of your car ever again. But, if you do want to, you can always opt into the available roof box or load bars. So, what are your options when it comes to snagging one of our Volvo V60 lease deals? Between the Volvo V60, Hybrid, and Cross Country, you have your pick of next-gen wagons to rule them all. Here's what's available:
Volvo V60 Inscription
Volvo V60 R-Design
Volvo V60 Momentum
Volvo V60 Polestar Engineered (Hybrid)
Volvo V60 Cross Country
When you take into consideration these five options and multiply that by the number of configurations offered to you by the various powertrains, a Volvo V60 lease is starting to look better by the letter. Keep reading to learn more!
Volvo V60 Power Options
Let's take a quick look into the power that's available when you get our Volvo V60 lease deals. Though, when we take a quick peek under the hood, you may never want to resurface.
The Volvo V60 Cross Country has a T6 powertrain with a 2.0L 4-cylinder Direct Injected Turbocharged & Supercharged engine. The T6 has an AWD drivetrain and offers 316 horsepower and & 295 pound-feet. On the Volvo V60 R-Design, Momentum, and Inscription trims, you'll get a T5 powertrain that hosts a 2.0L 4-cylinder Direct Injected Turbocharged engine. It gives you an impressive 250 horsepower and 258 pound-feet of torque. This powertrain also comes with FWD.
All that's left is the hybrid: the Volvo V60 Polestar Engineered. It has a T8 powertrain that includes a Direct Injected Turbo & Supercharged Engine with an electric motor. Like the Volvo V60 Cross Country, it is also an AWD model. It gives you a combined 415 horsepower and 473 pound-feet of torque. If not to do a little good for the Earth, you'll want to get a Volvo V60 lease on this hybrid to satisfy your urge for power!
Design and Features
Whereas wagons of the past sported a rather interesting design scheme, a Volvo V60 lease will give you something much different. Scandanavian-derived design allows the Volvo V60 to fit in as a modern wagon while also standing out with its singular look. On the base model, you can choose from up to eight different colors for your exterior. These include options like Pine Grey, Denim Blue, and Fusion Red.
Did you know wagons could be every bit as luxurious as other body types? A Volvo V60 lease can afford you luxury appointments like proximity key, voice-activated navigation, heated seats, memory seats, up to 10-way power-adjustable seats, dual-zone automatic climate control, parking assist, a theft-deterrent radio, chrome grille trim, and express open/close sliding and tilting glass sunroof.
Get Volvo Cars Leases in Charlotte, NC
Live near Matthews, NC, and want to know more about the Volvo V60 lease price? Our expert sales and financial staff would love to walk you through the details of everything you want to know. Just give us a call or visit us in person! If you're also looking at our Volvo S60 lease deals, we can give you the low-down on that information as well. No matter what you need, from leasing to buying, from servicing to trade-ins, we're here to help you through it all. Visit us in Charlotte, NC, to see for yourself (and get a Volvo V60 lease while you're at it)!
Discover Other Volvo Models For Lease in Charlotte, NC:
---