Volvo XC40 Recharge Twin Pure Electric Lease Deals In Charlotte, NC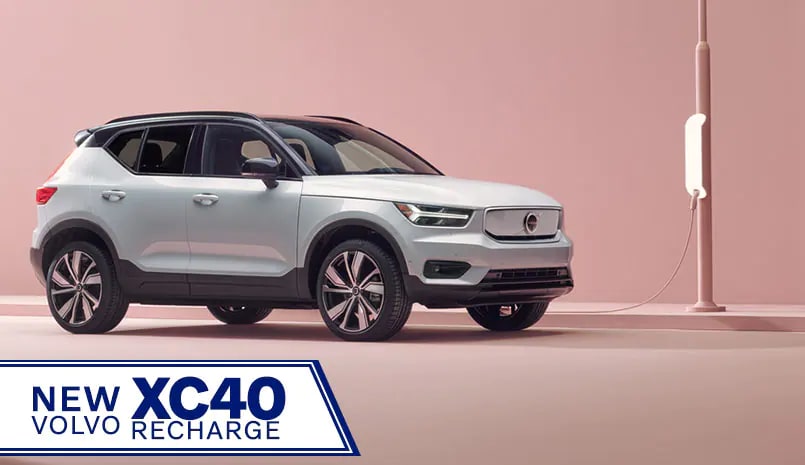 With NASCAR history right on our doorstep in Charlotte, NC, automotive culture is part of our legacy. Define your place in this pivotal moment in mobility with a cutting-edge Volvo XC40 Recharge lease from Johnson Volvo Cars Charlotte. On this page, we'll point out all of the specs that matter to show you how this model is ready to make your life behind the wheel an awesome place to be. Learn more about the new Volvo XC40 Recharge on our comprehensive research page or continue here for more about leasing & life made less complicated.
Benefits of a Volvo XC40 Recharge Lease
Lease or buy? Many of our customers ask us which is better. Our answer is the same almost every time: neither is better. It's more about what works for you. Both deal structures allow you to drive this cutting-edge vehicle without having to pay the full amount out of pocket. Both deal types offer benefits. Here are the highlights:
Grabbing one of our Volvo XC40 Recharge lease deals is ideal for someone who drives an average of 15K miles per year or less, loves getting a new vehicle every few years, and enjoys a lower monthly payment. For most, this latter point is the key driver.


Taking advantage of our Volvo XC40 Recharge finance specials is perfect for someone who loves to drive without restrictions, prefers ownership as an asset, and enjoys the ability to transfer a title without hang-ups.
What's nice about ownership through one of our Volvo XC40 Recharge lease specials is that when it comes to service, you're covered for your entire lease. Every Volvo car & SUV offers three years/36k miles of complimentary maintenance. Since the average lease is right about 36 months, your cost of ownership is pretty much your monthly payment.
Volvo XC40 Recharge Pure Electric Lease: Facts, Figures, & Surplus Fun
Alright, so let's get down to it. Here's all the EV goodness you need to know so that you can make the most of your ownership experience. If you're new to the EV scene, you'll find this section especially useful.
Free Energy - Did you know that 50% of the public charging stations in the Charlotte area are available for free? What do you pay annually for gas? $1,000? $2,000? Deduct that expense as a cost-saving benefit if you plan your trips accordingly!


Impressive Range - Your Volvo XC40 Recharge lease comes with the power to go anywhere! With an EPA-estimated range of 208 miles on a single charge, you can go from Charlotte to Wilmington without stopping.1 And then some.


Fast Charging - Your Volvo XC40 Recharge is equipped with the latest Drive-E technology. The Drive-E platform sets the stage for all Volvo pure electric cars & SUVs to follow. The fast-charge capable Volvo XC40 EV lets you go from a totally depleted battery to about 80% full in as little as 40 minutes.1


Exclusivity Only From Volvo Cars - The Volvo XC40 Recharge is currently the exclusive EV offering from Volvo Cars. Your Volvo XC40 Recharge lease comes with those bragging rights as well as the availability of a color reserved especially for the model. Sage Green Metallic will be your badge of honor. Show people what matters most to you. Make your statement.
Continue your Volvo XC40 Recharge research and see how this incredible vehicle will compliment your eco-conscious lifestyle.
Volvo XC40 Recharge Lease Offers Near Fort Mill, SC
Having any Volvo car or SUV in the driveway is always something special. However, Johnson Volvo Cars Charlotte makes putting one there even more special. Explore our new Volvo specials for the latest information about finance rates, lease cash, factory incentives, dealer credits, loyalty rewards, and more.
Thanks for taking a few minutes to learn more about our leasing program and ownership benefits. We look forward to helping you find the perfect Volvo XC40 Recharge lease to augment your compassionate view of the world.
1These are EPA estimates only. Range and charge time will vary depending on equipment, vehicle condition, weather, and more.