Volvo XC40 Lease Specials In Charlotte Near Matthews, NC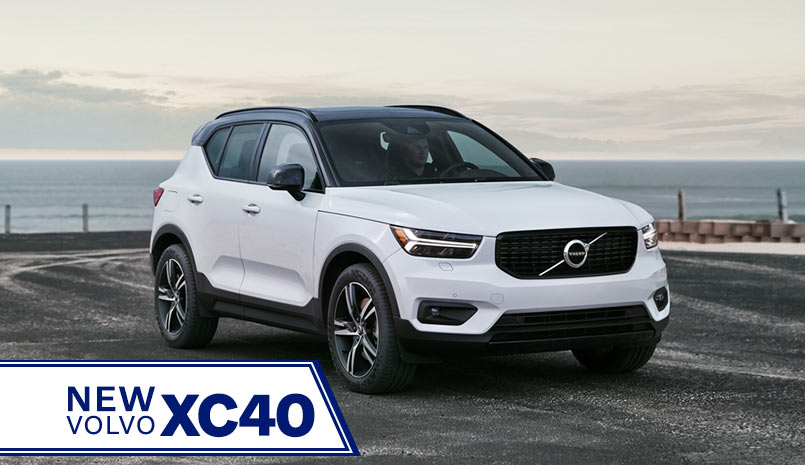 LEASE FOR
$
/Month
Months | Due at Signing
Do great things with a Volvo XC40 lease. All you have to do is visit Johnson Volvo Cars Charlotte and see our range of new Volvo SUV lease offers to experience savings and luxury at the same time! Thanks to our recent lease specials, the new Volvo XC40 is full of remarkable features and comes at a competitive price. Upon stepping onto our lot, you can do things like compare the Volvo XC40 lease to other deals, such as the ones associated with our new Volvo XC40 for sale. Only at our location will you quickly be able to see where the world of luxury and exclusive savings collide.
3 Reasons to Enjoy Volvo XC40 Lease Deals
Opting for a new Volvo XC40 lease can have tons of questions come to mind. How much will it cost every month? Can you trade-in your current model when you want to sign up for a lease? We're here to answer them all.
Before we dive into the logistics with you, we highly recommend that you give our inventory the good ol' once over. You can compare the deals on this page to our Volvo XC60 lease deals and see which pricing matches your preferences. There are tons of ways to enjoy a new Volvo vehicle, and we'll gladly name them all. With that said, below you'll find three reasons why you should consider our Volvo XC40 lease specials:
She's compact, but the technology isn't: With the latest Volvo XC40 lease, you'll have access to a range of innovative features, including Apple CarPlay™ and Android Auto™. All the while, the Volvo On Call connected app keeps you accessible while you enjoy modern sustainability.


The Volvo XC40 lease price is competitive: We encourage you to scroll to the top of this page and have a look at the current price on our Volvo XC40 lease. You'll be glad you did it.


The luxury is evident: Even in the Momentum trim, you'll have access to baseline luxuries like leather upholstery and finely-crafted seats--who wouldn't want that?
Let's Gawk At the XC40 SUV Together
We would like to cordially invite you to an exclusive viewing of our latest Volvo XC40 lease options. It'll just be you, us, and this exceptionally designed vehicle. While you're here, we'll walk you through the features that stand out to us, such as the 19" 5-Double Spoke Matt Black Diamond-cut Alloy wheels on the R-Design.
After you've done your fair share of exploring, we figure you'll want one. So, what's next? You'll want to have your personal information ready (e.g., gross monthly income, address, and social security number) so we can help you fill out a financing application. Our Volvo Cars Finance Center can walk you through the loan application, which can be filled out either in person near Matthews, NC or online.
Should you choose to fill it out online, you can find it under the Finance tab on this website. The system will process your request and forward your information to various lenders. Once we have a status (which is usually pretty quickly), you'll be aware and on your way to enjoying one of our Volvo XC40 lease specials. Does it sound super easy? That's because it is!
Frequently Asked Questions
How many miles do you get when leasing a Volvo X40?
The mileage allowed with your Volvo XC40 lease will vary, but a standard Volvo lease will typically allow you to drive the car for 15,000 miles per year. If this number is exceeded, excess mileage fees may be incurred. This 15,000-mile estimate is just an example, as the lease contract you sign will determine the specific number of miles allowed. When you visit us at Johnson Volvo Cars Charlotte, we can sit down with you to discuss your driving needs. That way, we can work with you to set a mileage allowance that reflects the lifestyle you want to have behind the wheel.
Can you return a Volvo XC40 lease early?
You may be able to return your Volvo XC40 lease early, but conditions in your lease contract will typically apply when you do. Depending on your contract, these conditions can involve a lease termination fee, though there may be a clause waiving the lease termination fee within your lease contract. Conditions will vary from one lease to another. Get in touch if you're considering turning in your lease early, and we can walk you through the details involved with your specific lease.
Can you lease a Volvo XC40 Recharge?
Yes. If you're looking to add emissions-free all-electric fun to the already attractive Volvo XC40, look to a Volvo XC40 Recharge lease. This luxurious eco-friendly SUV is a great choice for leasing, with cutting-edge innovations throughout every inch of the vehicle's design. Whisper-quiet comfort awaits, and so does thrilling performance with acceleration resembling that of a sports car. Market-leading safety gives you the utmost confidence in every ride, making this SUV the obvious choice for an all-encompassing electric vehicle. Can it get any better? Yes, it can. Our Volvo XC40 Recharge lease deals will keep your wallet happy while your zero-emissions driving keeps the environment happy.
Discover Other Volvo Models For Lease in Charlotte, NC:
---