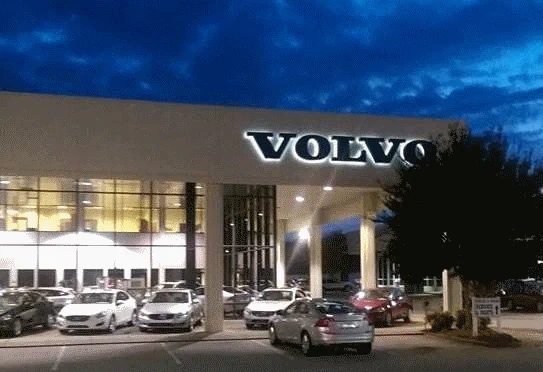 We welcome shoppers throughout North and South Carolina to Johnson Volvo Cars Charlotte, and we invite you to learn more about our dealership and our well-stocked selection. The Volvo brand has led the way in safety and style, as one of the first brands to champion safety features we still use today, such as the three-point seat belt. The Volvo car of today offers high-rated safety features and the very latest of Scandinavian craftsmanship. Inside each of our new and Certified Volvo cars awaits an experience of premium style and sophistication for all drivers to enjoy!
Here at Johnson Volvo Cars Charlotte, we want to offer drivers a one-stop-shop for them to find their next new or used car from us, finance it, and keep it well-maintained. We want you to feel total satisfaction in your chosen car and we want you to find something you can enjoy for many years to come. Visit Johnson Volvo Cars Charlotte today to get started, you will find our dealership less than a 45-minute drive outside of Fort Mill, SC.
The Top New Volvo Models
If you look to upgrade your ride to something spectacular, then we have a new Volvo model that you will enjoy. Our inventory contains a fully-stocked selection of sports cars, wagons, and luxury SUVs which exemplify the best of the Volvo brand this year. All of these new cars come with some outstanding new semi-autonomous safety features which keep you safe and prevent accidents as you drive through Matthews, NC. Many of these new Volvo models come available with a wide selection of supercharged and turbocharged engines for maximum performance, with plug-in hybrid electric models available on many trim levels. Enjoy the top new Volvo models on the market today, such as the:
Shop Used for Convenience
Our used inventory has something to delight the tastes of our guests, especially those cars featured among our Certified by Volvo inventory. Our Volvo certified models offer some of our top Volvo models in-stock for a lower pre-owned price and backed by some outstanding warranty coverage. However, even if you want to explore other options, you will find our used inventory has a great selection of pre-owned sedans, SUVs, and coupes from competing brands lie INFINITI, Lexus, and Lincoln. Many of these used cars come from more recent model years, while others have low mileage on the odometer.
Great Service Around Every Corner
Finance Center
Our sales team can help you lock down your next dream car, while our financing team helps you pay for it at a comfortable financing or leasing rate. Buying a new or used car presents one of the largest and most important expenses in a customer's life and we want to ensure the financing and leasing process goes by smoothly for customers for Charlotte to Rock Hill, SC. Our team can answer your questions about the financing or leasing process and can lay out your best options in accordance with your budget and credit rating.
Service Center
When the time comes for service, we remain there for you throughout it all. Each of our technicians enjoys special training in the Volvo brand and many years of experience, so they can handle virtually any service needs for your new Volvo or used car. Shoppers can find our service center on-location at our Charlotte, NC dealership and stocked with state-of-the-art equipment to handle any maintenance or repair need, from simple oil changes, to more intricate transmission repair.
In fact, we even offer valet service to our customers within a 125-mile radius, such as Waxhaw, NC. Our service team can pick up your car for its service appointment, leave you a loaner car, and drop the vehicle back off at this location. Shoppers might not find valet service at other dealerships in the area, but it ensures that your car gets the care it deserves without interrupting your busy schedule.
Come to Johnson Volvo Cars Charlotte Today!
We invite North and South Carolina customers to begin shopping with us at Johnson Volvo Cars Charlotte and to swing by our dealership for a test drive. You can schedule one online by contacting our sales team, or by calling us and swinging by our dealership on E Independence Blvd in Charlotte, NC. Visit us today!