Volvo XC90 Lease Deals Near Matthews, NC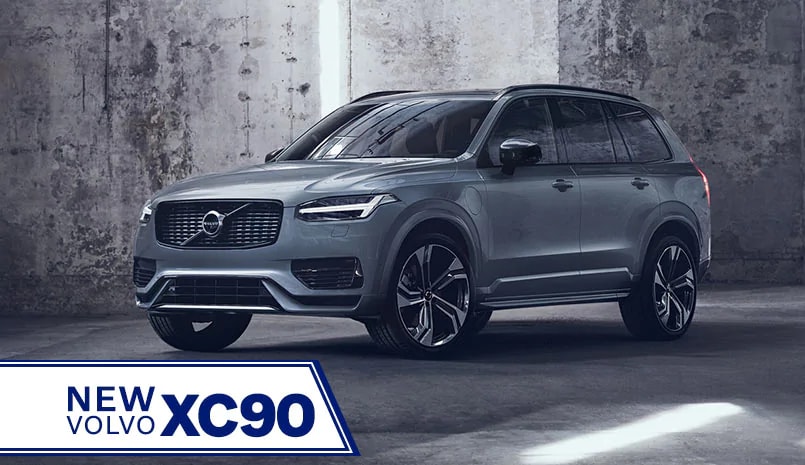 LEASE FOR
$
/Month
Months | Due at Signing
The new Volvo XC90 for sale is truly a sight to behold. But, if you're not the buying type, our Volvo XC90 lease specials are a great way to get behind the wheel of this luxury SUV. The Volvo XC90 is stylish, capable, and loaded with incredible amenities for you and your family to enjoy. You and up to six passengers will love going on any ride in this flagship vehicle. We invite you to browse our current Volvo XC90 lease deals and learn more about this dynamic SUV below.
New 2023 Volvo XC90
The Volvo XC90 Lease Trims
With industry-leading safety features and exciting performance options, getting a Volvo XC90 SUV puts a car in your driveway that can really do it all. Your Volvo XC90 lease can come in one of the following models/trims:
The Volvo XC90 Momentum
The Volvo XC90 R-Design
The Volvo XC90 R-Design Plug-In Hybrid
The Volvo XC90 Inscription
The Volvo XC90 Inscription Plug-In Hybrid
Yes, that's right. You can even get a Volvo XC90 hybrid lease near Matthews, NC, at our dealership. It is all part of Volvo Cars' new initiative to have over 50% of their sales be Hybrid or Electric vehicles by 2025. That's just another way Volvo Cars stands out amongst the luxury competition.
If you're wondering what trim is best for you, don't worry. For starters, every single trim is amazing. And, the sales team at Johnson Volvo Cars Charlotte will work 1:1 with you to make sure you're getting the Volvo XC90 lease that's best for you and your lifestyle. In the meantime, you can get excited knowing that even the base trim comes standard with a 9" touchscreen infotainment system, navigation, smartphone connectivity, a Wi-Fi hot spot, power-adjustable front seats, a hands-free power liftgate, and a wireless charging pad for your phone. And, that's just scratching the surface of the luxury appointments.
Power & Efficiency
You get three options for powertrains on your Volvo XC90 lease. Let us break them down for you in this table:
The T5, T6, and T8 Powertrains

T5

T6

T8 (Hybrid)

Final Drive
FWD (AWD available)
AWD
eAWD
Horsepower
250HP
316HP
400HP
Engine
Turbocharged 4CYL
Twin-Charged 4 CYL
T6 Engine + 2 Electric Motors
Transmission
8-speed automatic
8-speed automatic
8-speed automatic
All three engines give you incredible passing power and will make your drive around Charlotte a blast. And they're all efficient - especially the plug-in hybrid. The T5 gets an EPA-estimated 30 highway MPG. The T6 gets an EPA-estimated 28 highway MPG. And the T8 gets an incredible EPA-estimated 55 MPGe. The choice is all yours!
Safety & Style
Although we like to say that Volvo Cars shines in every category, we believe this is where the automaker truly outdoes the competition. Did you know that most automakers only test on male-like crash-test dummies? This means they're only accounting for the safety of an adult male. Volvo Cars believes everyone should be safe in their vehicles. Volvo Cars tests with crash-test dummies made to resemble women and children as well. That's just a small part of how seriously Volvo Cars takes safety.
Aside from all of the testing that goes into your Volvo vehicle before you get it, you'll notice a long list of standard safety features once you secure your Volvo XC90 lease. Forward collision warning, adaptive cruise control, blind-spot monitoring, lane departure warning, driver drowsiness monitoring, and road sign recognition are just some of the high-tech features you'll have in your Volvo XC90 lease.
Safety is always covered, but luxury is too. Your car will be covered in walnut wood trim, leather upholstery, metal accents, and much more. Want to up the ante? You can even get yourself massaging front seats with the Inscription trim. Ooh la la!
Frequently Asked Questions
Can you return a Volvo XC90 lease early?
Yes, you can return your Volvo XC90 lease early under certain conditions. A lease termination fee will typically apply if your lease agreement allows an early lease return. However, a clause may exist in your contract that waives it. Contact us for more details about your specific lease.
How many miles can you get with a Volvo XC90 lease?
Allowed mileage with a Volvo XC90 lease can vary depending on your specific lease contract. Typically, though, a standard lease for a Volvo XC90 SUV will allow you to drive the vehicle for 15,000 miles per year before excess mileage fees are incurred. This number is only an example, and your specific mileage allowance will be set before you sign your lease contract. Contact us or stop by today; we'll discuss all of your driving needs and can arrange a mileage allowance that genuinely accommodates your lifestyle.
What is the difference between leasing and buying a Volvo XC90 SUV?
When you buy a Volvo XC90 SUV, the vehicle is yours for good and doesn't come with any restrictions on how you drive her. With a Volvo XC90 lease, you'll make monthly payments until your contract end date, when you must either return or buy the vehicle. Fees can apply for excess wear and tear on your leased model or for mileage that goes over the agreed-upon number.
Nonetheless, a lease can offer you more affordable monthly payments, plus you have the easy option of getting behind the wheel of a new model once your lease is up. Buying a Volvo XC90 is the best option if you want to keep your car long-term, while leasing is an excellent option for those who want to switch vehicles every few years.
Your Volvo XC90 Lease Is Waiting at Johnson Volvo Cars Charlotte
Whether you're sold on a Volvo XC90, or you want to check out our Volvo XC60 lease deals, the team at Johnson Volvo Cars Charlotte is here to make your car-shopping experience an excellent one. Our sales staff will walk you through the Volvo XC90 lease price, our finance staff will assist you with things like Volvo Assurance, and our service department is here to keep your car running like new. No matter what you need, we will be here for you. Call, email, or visit us to get started today!
Discover Other Volvo Models For Lease in Charlotte, NC:
---