Volvo XC60 Lease Specials In Charlotte Near Matthews, NC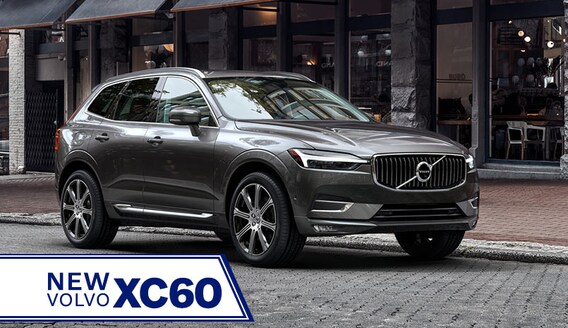 LEASE FOR
$
/Month
Months | Due at Signing
Our Volvo XC60 lease is undoubtedly one to get excited about. If you're looking for a sturdy SUV that can take you on a full-fledged shopping spree in one moment but cart around your little ones from practice in the next--this is it. Introducing the valiant, ever-so-accurately-designed Volvo XC60. Interested? Compare her to the Volvo XC90 lease deals on our lot for good measure, and see just how fantastic a new Volvo XC60 SUV truly is.
Everything You Want, and Then Some
With our Volvo XC60 lease, you'll have access to all of the most modern luxuries. Entertainment will be just a click away, thanks to her Apple CarPlay and Android Auto connectivity. You can also enjoy the benefits of a power moonroof and leather interiors, along with wireless phone connectivity. When you have the Volvo XC40 with automatic temperature control, you'll feel without want. She has tons of state-of-the-art features in tow, and we've only briefly scratched the surface of her offerings. If you're ready for a world full of infinite luxuries, read on.
How to Access Our Volvo XC60 Lease Specials
If you're on the hunt for a really competitive Volvo XC60 lease price, say no more! It takes a simple scroll to the top of this page to see where our current offer stands--we know, it's pretty great. If you're looking to take advantage of this exclusive lease special, there are a couple of things you can do. You can make the short trip over from Matthews, NC, and visit our Volvo Cars Finance Center in-person, or you can apply for financing online.
Should you choose the online route, all you have to do is select the Finance Application from the menu at the top of this website! From there, you'll do all of the standard stuff:
Enter your full name
Provide your social security number (for credit purposes)
Offer your address and gross monthly income
Include your monthly housing costs (e.g., rent or mortgage, if any)
What's next? Our Volvo Cars Finance Department will check back with you about the status of your application. If approved, we'll discuss the logistics surrounding the required down payment and overall fees associated with taking on the lease. We can even discuss the benefits of opting for a Volvo XC60 lease vs. buying. And trust us, there are plenty. When you decide to lease a new Volvo XC60 SUV, you're going to have access to a brand new vehicle without worrying about long-term maintenance costs. Those who lease vehicles also typically enjoy lower monthly payments, which is a nice perk. So, what are you waiting for? Opt for one of our Volvo XC60 lease deals now!
She's Waiting For You
Whether you're starstruck by the Volvo XC60 for sale or you fully intend on opting for a Volvo XC60 lease, our team will gladly assist you. When you're staring down life in the face, it doesn't really matter which path you take; so long as there's a high-end, sustainable ride leading the way.
Frequently Asked Questions
Can you return a Volvo XC60 lease early?
Yes, but certain conditions apply. You may be able to return your vehicle early if the terms of your Volvo XC60 lease contract allow it. However, your contract will typically contain a lease termination fee. If applicable, this fee must be paid when you return your vehicle early. Your lease contract may contain a clause that can waive this fee, but specific details vary from one lease contract to another. Get in touch today, and we can discuss the process and details of returning your leased Volvo XC60 early.
How many miles can you lease a Volvo XC60 SUV for?
The exact number of miles allowed with your Volvo XC60 lease will depend on the details of your lease contract. On average, a standard lease for a Volvo XC60 will let you drive your vehicle for 15,000 miles per year, with excess mileage fees applying if you exceed the agreed-upon number. This 15,000-miles figure is just an example, as the terms of your lease contract will set your specific mileage allowance. Visit our dealership today, and we can discuss your driving needs so that your mileage allowance reflects your preferred driving habits.
How can I buy my Volvo XC60 after my lease is up?
If you fell in love with this comfortable yet sleek SUV, it may be hard to say goodbye when your Volvo XC60 lease comes to an end. If that's the case, and we don't blame you, you have the option to buy the vehicle outright. Contact us to go over the specific details for your lease. You'll typically need to pay any outstanding fees first, but once you do, you can buy your vehicle for the residual price set in your lease contract.
Discover Other Volvo Models For Lease in Charlotte, NC:
---