2022 Volvo XC40 Recharge Twin Plus Interior, Price & Release Date
The 2022 Volvo XC40 Recharge pure electric SUV from Volvo Cars takes things to the next level. The inaugural model made an emission-free future seem more attainable than ever. This latest version makes that same future more desirable. This page will highlight key changes from the previous model to this one. Additionally, we'll touch on Volvo Cars' plans for 2025 and what that means for you today. Scroll down for more.
What You Can Expect on the 2022 Volvo XC40 Recharge Release Date
The 2022 Volvo XC40 Recharge pure electric SUV set the trend for Volvo Cars. By 2025, the brand seeks to have at least 50% of its sales be from electrified vehicles. Volvo Cars is well on its way thanks to the pioneering Volvo XC40 Recharge, which now shares the stage with her close cousin the 2022 Volvo C40 Recharge. Two new trims are available for the Volvo XC40 Recharge:
The 2022 Volvo XC40 Recharge pure electric P8 Plus
The 2022 Volvo XC40 Recharge pure electric P8 Ultimate
Let's decode them both for a second. The suffix designation is the trim level; the "pure electric P8" refers to the powertrain and the proper noun "Recharge" is given to all electrified Volvo Cars models, including plug-in hybrids. But wait, there's more! You might even see this vehicle listed as the Volvo XC40 Recharge Twin Plus for sale. Is there any difference? The "Twin" designation simply refers to the dual-motor setup that all 2022 Volvo XC40 Recharge pure electric models share.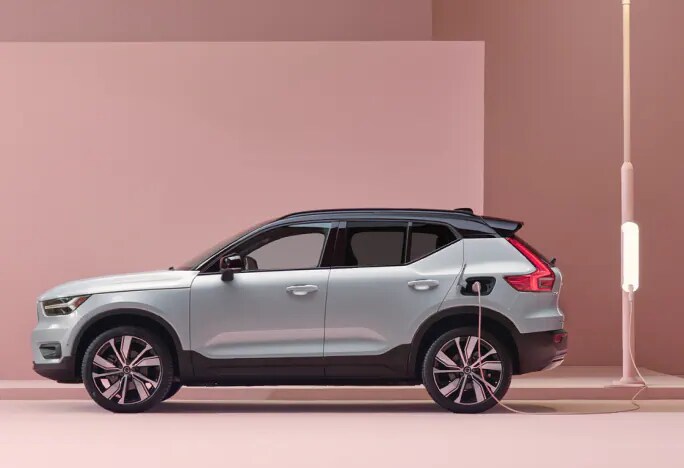 2022 Volvo XC40 Recharge Specs at a Glance
All models share 402 horsepower thanks to the 75 kWh fully electric, liquid-cooled, lithium-ion P8 powertrain. Retuning and software updates allow the 2022 Volvo XC40 Recharge range boost to be considerable over the previous year. With an EPA-rated 223 miles of range on a full charge, range anxiety is ancient history.1
All models benefit from a new infotainment system powered by Google, standard 360-degree cameras, and DC fast-charging. Everything about this year's model is faster. Charge yours up to 80% from a nearly depleted battery in less than 40 minutes. Sprint from 0-60 in 4.7 seconds. Lastly, you can tow up to 3300 pounds when your 2022 Volvo XC40 Recharge pure electric SUV is properly equipped.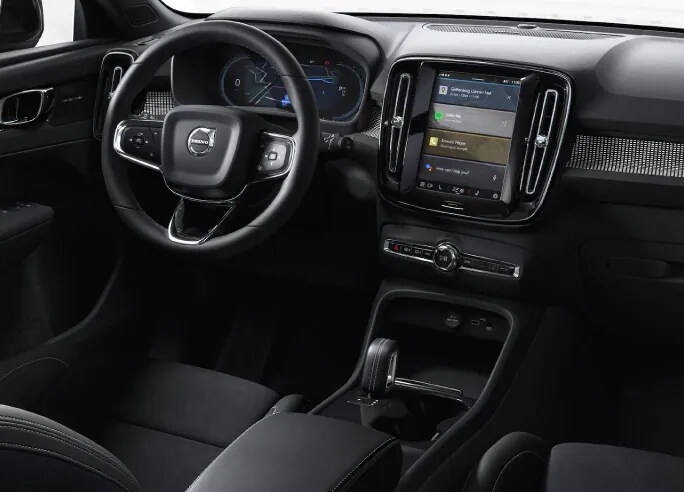 Your 2022 Volvo XC40 Recharge Interior & Exterior Details
Sage Green Metallic is a color reserved exclusively for this model and is available on both trims. Other notable exterior features include standard adaptive LED headlights, LED daytime running lights, LED taillights, premium diamond-cut alloy wheels, roof rails, and a contrast roof. Accessorize as needed with an endless array of sport-carrying gear, styling packs, and protection kits.
Sliding into the interior, you'll notice that nubuck/nappa leather trim wraps all seating surfaces, and pointed contrast stitching is the perfect accent for this luxurious space. The most notable change for the 2022 Volvo XC40 Recharge interior is the deletion of the previously available Lava Red flooring option.
Space for you, yours, and all your belongings is well thought out. Clever storage solutions and useful hangers and hooks deploy when required to hold a wide variety of life's miscellany. There's also a hidden storage compartment in the boot, and all riders will enjoy proper SUV-like comfort from 96 cubic feet of passenger space. Explore our Volvo XC40 Recharge lease offers and prepare to make some space in the garage.
2022 Volvo XC40 Recharge Pure Electric FAQs
What is the 2022 Volvo XC40 Recharge release date?
Our order call is open, and we are taking reservations now. The very first examples are expected to debut before the end of 2021. While global supply chain shortages might affect this timeline somewhat, we plan on seeing them in our showroom no later than Q1 2022.
Can a Volvo Recharge use a Tesla charger?
That depends on the type of Tesla charger you're referring to. Only Tesla vehicles can charge at a Tesla Supercharger. Even though you might physically be able to plug your vehicle in using an adapter, proprietary software is what makes the connection. That said, any normal Tesla wallbox, Level 1, or Level 2 charger can charge other vehicles, including the 2022 Volvo XC40 Recharge pure electric. You will need an adapter to fit your standard J-plug connector. Dozens of adapters are available.
Does the Volvo XC40 self-charge?
No. However, with the Volvo On Call app, you can pre-program your vehicle to charge when you need her to when plugged in at home. For instance, you can time self-charging cycles to take advantage of off-peak power rates. Clearing up a common misunderstanding, regenerative braking does not fully recharge battery power on this system. It prolongs battery life through wasted energy capture.
How much does it cost to charge a Volvo?
Free, in some cases. Wherever you live, do a search for free EV charging stations near me. You'll be shocked by what you find available in your area. Free public charging aside, energy rates vary. A general rule of thumb is that the eclectic equivalent of a gallon of gas costs well under half the price of gasoline.
The 2022 Volvo XC40 Recharge Price Is Only the Beginning
Volvo Cars cares about your ownership experience. That's why every model comes with four years or 40,000 miles of complimentary maintenance. Beyond that, Volvo Cars also offers special incentives on their in-house insurance provider. There are many advantages to having an all-in-one monthly payment. Free public charging aside, Volvo Cars also offers you a one-year complimentary subscription to Electrify America with discounted rates. There's more to EV ownership than meets the eye. Visit our Volvo Cars showroom to immerse yourself in a world that will be here sooner than you ever thought possible.
---
1EPA estimates only. Your results will vary.