The Volvo C40 Recharge is coming soon and is ready to join the new Volvo cars lineup. Although we don't know the exact 2022 Volvo C40 Recharge release date yet, we expect them to hit dealerships late this year. The 2022 Volvo C40 Recharge is a fully electric vehicle that blends coupe styling with emissions-free power to give you a luxury crossover that is here to help save the planet. Volvo Cars considers this new vehicle a glimpse into their future. This comes as no surprise given that the Volvo C40 Recharge pure electric SUV was revealed on the same day the brand announced that it intends to be an entirely electric automaker by 2030. Are you ready to learn more about the specs, styling, and price? Keep reading!
Unprecedented Design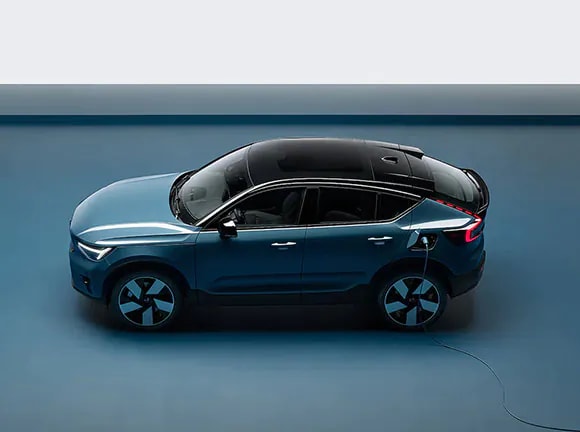 The Volvo C40 is the first vehicle from Volvo Cars to be available exclusively as an electric vehicle. The brand's other electric vehicle is the Volvo XC40 Recharge SUV, but that vehicle also comes in a version with a conventional combustion engine.
The Volvo C40 Recharge will be similar to the Volvo XC40 but will employ more coupe-like styling. This means it will have the capability of an SUV but will have a low and sleek design aesthetic that makes it look more like a lifestyle vehicle. We know this vehicle will turn heads with its low roofline, unique taillights, and aerodynamic spoiler.
The front of the Volvo C40 Recharge will look entirely different than anything we've seen from the brand before. It has a new face, including headlights with brand new pixel technology. The doors have concave angles. The black roof will provide a great contrast to whatever exterior color you choose. The rumored colors are Silver Dawn, Crystal White, Sage Green, Thunder Grey, Black Stone, Fjord Blue, and Fusion Red. No matter what you choose, this sleek and unique crossover will look just as cool as the Batmobile.
Power & Range
Volvo Cars is known for making their electric vehicles and Volvo plug-in hybrids incredibly high powered. This negates any doubts that driving green means driving weak or slow. Twin electric motors can be found in the front and rear of the Volvo C40 Recharge. The power will come from a 78kWh battery and will provide 408 horsepower. That is more than you can say for many turbocharged, gas-powered SUVs. You will feel the acceleration the second you press the pedal. Automotive experts who tested the Volvo C40 Recharge 0-60 time say it takes less than five seconds. Vroom vroom!
This SUV can also receive over-the-air updates that tell you information about your 2022 Volvo C40 Recharge range. The current estimates for the range are about 210 miles, but those aren't official yet. Charging is simple with the wide network of electric car charging stations. You can always charge with a regular wall outlet or installed charger at home. If you choose to use a DC Fast-Charging station, you can get 80% charged in just 40 minutes.
Incredible Specs & Details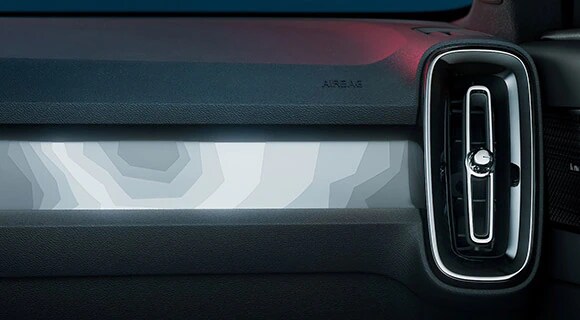 There are many other details to get excited about when it comes to the Volvo C40 Recharge. Your car will come with elegant design details that include clever storage systems, a Google Android™ infotainment system, comfortable seating, a huge panoramic sunroof, backlit trim panels, unlimited mobile data, and high-end materials throughout. A material you won't find on the 2022 Volvo C40 Recharge interior is leather. This is part of the initiative to help the environment. The seats will be made out of recycled plastics. Don't worry. Luxury remains a key factor, and you will still enjoy the ride.
Plus, as a Volvo Cars vehicle, you won't be surprised by an entire slew of driver-assistance features that will keep you and yours safe. Blind-spot monitoring, lane keep assist, driver drowsiness monitoring, automatic emergency braking, and much more will always come standard.
FAQs About the Volvo C40 Recharge
What is the 2022 Volvo C40 release date?
Unfortunately, we don't have an exact date. We also don't know the exact Volvo C40 Recharge price yet. Test models are expected to arrive at dealerships in late 2021. As soon as we know the exact details in relation to the date, we will let you know.
Can you reserve the 2022 Volvo C40 Recharge?
You sure can! Contact our Volvo Cars dealership in Charlotte, NC, and we will help you secure a Volvo C40 Recharge. Did you know that Volvo C40 models will be entirely sold online? Of course, we will have models at the dealership for you to see and test drive, but your purchase will be entirely online. This helps with the brand's simplified model packaging structure to minimize operational waste. The environment will thank you.
What will the range of the Volvo C40 Recharge pure electric be?
Volvo Cars hasn't released any official numbers yet. However, it has an expected range of around 210 miles. Once the EPA officially tests the vehicle, we can give you more exact figures.
The Future Is Calling
It's time to get with the times. Electric vehicles are the way of the future. The Earth is asking for your help, and the Volvo C40 Recharge is your way of helping the environment in style. This luxury SUV will make you wish electric vehicles with this much power came around a lot sooner.